Classical Dance
The temple tradition of dancing that was practiced in the ancient times has got an entirely new dimension today. The Indian classical dance has been able to make a niche for itself at the global level. It has not just gained popularity amongst the Indians, but has also brought about a sensation in the western countries. The traditional dances of India have crossed all the boundaries and today they stand above all others having an identity of their own. The varied dance forms of India depict the rich cultural heritage of our country. The origin of these dance forms can be traced back to 400 B.C during the times of Natya Shastra of Bharata Muni.
Bharatnatyam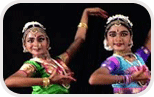 Bharatanatyam is a classical dance of India, which finds its roots in the southern state of Tamil Nadu. It is believed that Bharatanatyam is mainly a renewal of Cathir, the ancient art of temple dancers. The dance form has been named after Bharata Muni, the author of the Natya Shastra (ancient treatise on classical Indian dance).
Kuchipudi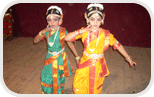 Kuchipudi is a classical dance that has its origin in Andhra Pradesh. The name 'Kuchipudi' is acquired from the name of a small village of Kuchelapuram near Vijayawada in Andhra Pradesh, India. In seventh century, Kuchipudi evolved with the outcropping of Bhakti movement. The credit of existing dance form of Kuchipudi goes to Sidhendra Yogi.
Associated with
Rainbow International School (Beeramguda, Patancheru)
International School of Hyderbad (ICRISAT,Patancheru)
Jain Heritage Cambridge International school(Kondapur, Masidbanda)
Gowtham Model Schools(The K12 Technoservices)
Vikas Concept School(Hyderbad)
You are Visitor Number