Freestyle Dance
Freestyle dancing can apply to numerous dance types and can be defined as any style of dance where the moves are not thought out ahead and where no choreography of the moves occurs before the dance begins. It is literally thinking on your feet in this sense, and freestyle dancing can exist in almost all dance forms. As freestyle implies, the dancer is free to make it up as he or she goes, though if you are dancing a waltz, you generally don't freestyle into a different dance form like the tango.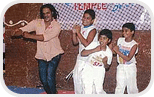 Even though freestyle dancing implies freedom, most dancers are still going to keep themselves within a particular style of dancing. A hip hop dancer who freestyles uses recognizable hip hop moves, and perhaps a few he or she has made up. This can make issues confusing since many people always refer to both hip hop and funk dancing as freestyle dancing.
This is actually inaccurate. Many hip hop dances are elaborately choreographed, especially when they are performed in groups, and as is often the case, performed at concerts with recording artists like Britney Spears. Moves have to be choreographed, since a uniform feel to the dance allows the performer to also dance at moments in concert with her backup dancers.
Associated with
Rainbow International School (Beeramguda, Patancheru)
International School of Hyderbad (ICRISAT,Patancheru)
Jain Heritage Cambridge International school(Kondapur, Masidbanda)
Gowtham Model Schools(The K12 Technoservices)
Vikas Concept School(Hyderbad)
You are Visitor Number