Meditation
Mind and body are connected through yoga. Meditation is a part of Yoga. The Ashtanga Yoga of Patanjali speaks about eight "limbs" or steps of yoga which are Yama, Niyama, Asana, Pranayama, Pratyahara, Dharana, Dhyana and Samadhi. The first thing we are taught when we start pranayama is how to sit straight with the spine erect. This is known as Asana Jay (i.e. perfecting of posture). Pranayama is control of prana or vital breath. Pratyahar is withdrawing the senses inward. Dharana is fixing the attention on a single object i.e. concentration. Dhyana is meditation or becoming thoughtless. Samadhi is the experience of unity with God and a kind of super conciousness.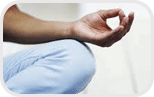 Meditation is a technique that we can use at any time and place to quieten the mind and restore peace and harmony within ourselves. This subsequently gets manifested in our outward life as well. Meditation is intended not to stop us thinking but to help us to produce order in the midst of our confusion. By relaxing our mind through meditation, we can clear the chatter for a time and experience a renewed sense of energy. This enables us to bring identity, clarity and freedom to take control over our lives to become healthier and happier.
Accumulated stress is the root cause of a high proportion of illnesses, including many common and serious conditions. By eliminating stress, meditation offers important benefits for the cure and prevention of a wide range of health problems and allows the mind and body to function with maximum effectiveness. This leads to good health and longevity.
Associated with
Rainbow International School (Beeramguda, Patancheru)
International School of Hyderbad (ICRISAT,Patancheru)
Jain Heritage Cambridge International school(Kondapur, Masidbanda)
Gowtham Model Schools(The K12 Technoservices)
Vikas Concept School(Hyderbad)
You are Visitor Number